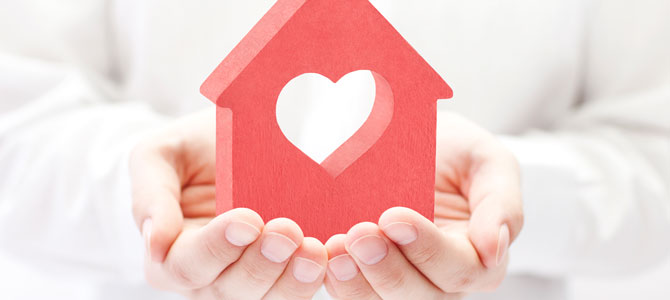 Happy (almost) Valentine's Day! Energy-saving upgrades may not be top of mind for anyone right now. After all, it's the time of year electric bills tend to be the lowest in the Valley.
But, while the weather is cool during the season of love, now might be the perfect time to make some upgrades.
Related: Ways to save energy this winter
How to show your house some love with energy-saving upgrades.
Whether or not you celebrate this holiday with a significant other, it's the perfect day to show a little love to another important fixture in your life: your home.
For better or worse, in sickness and in health, your home is always there for you. Doesn't it too deserve to be loved and cherished on Valentine's Day and throughout the year?
As you might expect, you're not going to win over your home with a card or chocolates (although you can never go wrong with flowers).
Here are five ways to make energy-saving upgrades
The best gift you can give your home — and, in turn, yourself — is the gift of energy efficiency upgrades.
1. Spend some quality time.
Giving your home a little TLC doesn't have to break the bank. In fact, there are a variety of easy DIY projects you can do this year to show your home you care while also lowering your energy bills.
From building your own shade screens to weatherizing doors and windows, and more, you'd be surprised at how many energy-saving upgrades you can easily do yourself. Watch our DIY video series to get started.
2. Get it something cool.
If things often get a little heated between you and your home, it might be time to consider a new AC unit. By selecting the right type and size of AC or heat pump system, you'll ensure energy savings and maximum indoor comfort. And thanks to our Cool Cash™ Rebate Program, you can get up to $1,125 back on a new energy-efficient AC, heat pump or mini-split system.
3. Buy it the latest tech.
Just like your boo, your home loves the latest tech. That's why we launched SRP Marketplace. It's the perfect place to buy your home all the latest energy- and water-saving technology, including smart thermostats, LED light bulbs, advanced power strips, connected home devices and more.
4. Make sure it's protected.
We're naturally inclined to protect our loved ones, so why not also protect your home? The Arizona sun can be tough on your home and your energy bill, but there are a couple of ways to combat its rays.
First, install shade screens on west-, south- and east-facing windows. We'll even give you a rebate of $0.80 per square foot on professionally installed shade screens.
For even more energy savings, we'll also give you two free shade trees for your yard. All you have to do is attend a workshop.
5. Take it on a double date.
Does your home have a room that is too hot in the summer or too cold in the winter? The culprit may be leaky ducts.
Cancel the expensive Valentine's Day dinner reservations, and schedule some time with a duct test and repair contractor who can help you identify places in your home where energy escapes and repair them.
SRP's Duct Test and Repair Rebate covers up to $400 off duct testing and qualified repairs completed by BPI-certified contractor.
What are you waiting for? Let's make some energy-saving upgrades!
There are many ways to love your home this Valentine's Day and throughout the year. And remember, the gift of energy-efficient home upgrades is as much a gift to you as it is to your home.
Looking for ways to make your home more sustainable? This article from our partner Water Use it Wisely outlines 8 ways to make your home more sustainable.